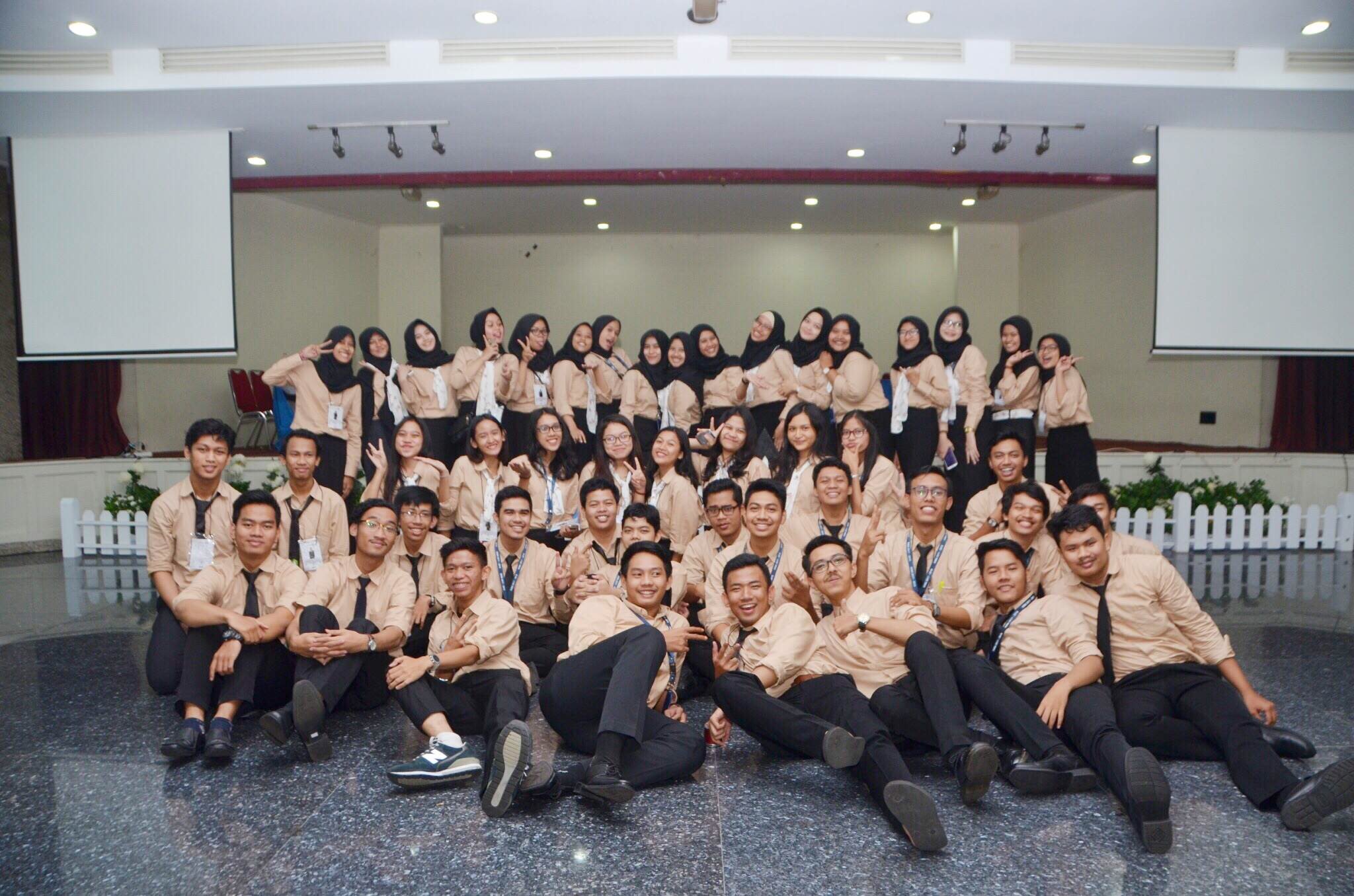 Accounting Exhibition and Discussion (ACSI) XIII merupakan salah satu program kerja tahunan dari HIMA Perbanas. ACSI XIII diselenggarakan pada tanggal 9 dan 10 Mei 2017 bertempat di Auditorium Unit III Perbanas Institute, Jakarta. Kegiatan ACSI XIII ini bertujuan untuk meningkatkan pengetahuan dan wawasan serta membangun jiwa kompetitif, agar mahasiswa akuntansi Perbanas Institute mampu mengembangkan kreativitas dan profesionalitas yang dimilikinya dan dapat bersaing dengan mahasiswa universitas lain.
ACSI XIII terdiri dari dua rangkaian acara yaitu Lomba Akuntansi antar mahasiswa Perbanas dan Seminar Akuntansi. Kegiatan yang memiliki tema " Unleash Your Greatest Accounting Skills and Get Ready to be The Winner of ACSI XIII" ini telah diikuti oleh 26 tim angkatan 2016 dan 8 tim 2015 mahasiswa akuntansi Perbanas Institute.
Lomba Akuntansi pada ACSI XIII ini memiliki enam pemenang dimana masing-masing angkatan memiliki tiga tim pemenang. Para pemenang ACSI XIII sebagai berikut: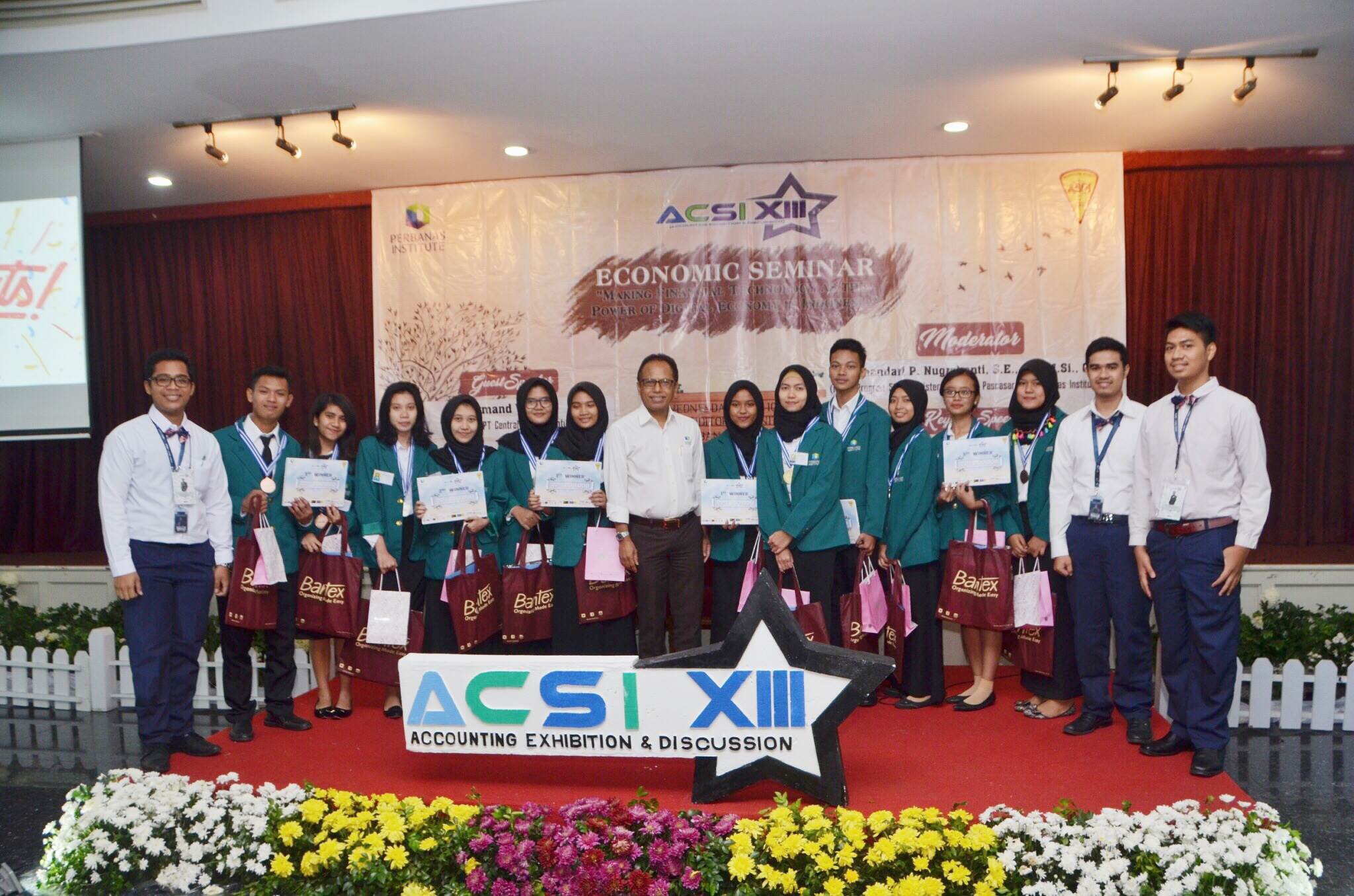 Angkatan 2015 :
– Juara 1: Dita Syafira dan Indah Lestari
– Juara 2: Khotibul Umam dan Lutfia Nur Ramadhani
– Juara 3: Sari Patunnisa dan Mayandita Nabilah
Angkatan 2016:
– Juara 1: Dinda Hanifah dan Farhanah
– Juara 2: Fiesta Meilinda dan Riska Ramadina
– Juara 3: Sunarto dan Karina Evelin Yiwa
Sedangkan, seminar akuntansi yang bertemakan "Making Financial Technology as The Power of Digital Economy in Indonesia" dihadiri oleh:
– Moderator :
Dr. Trinandari P Nugrahanti, S.E., M.Si., Ak., CA. (Ketua Program Studi Magister Akuntansi Pascasarjana Perbanas Institute)
– Keynote speech:
M. Faisal Fariduddin A. Nasution, Ph.D. (Analis Senior, Grup Penelitian, Pengaturan, dan Pengembangan Pengawasan Terintegrasi OJK)
– Pembicara 1:
Armand Widjaja (Direktur PT. Central Capital Ventura)
– Pembicara 2:
Aucky Pratama Setya Dharma (Direktur ASEAN Federation of Accountants Secretariat Jakarta, Indonesia)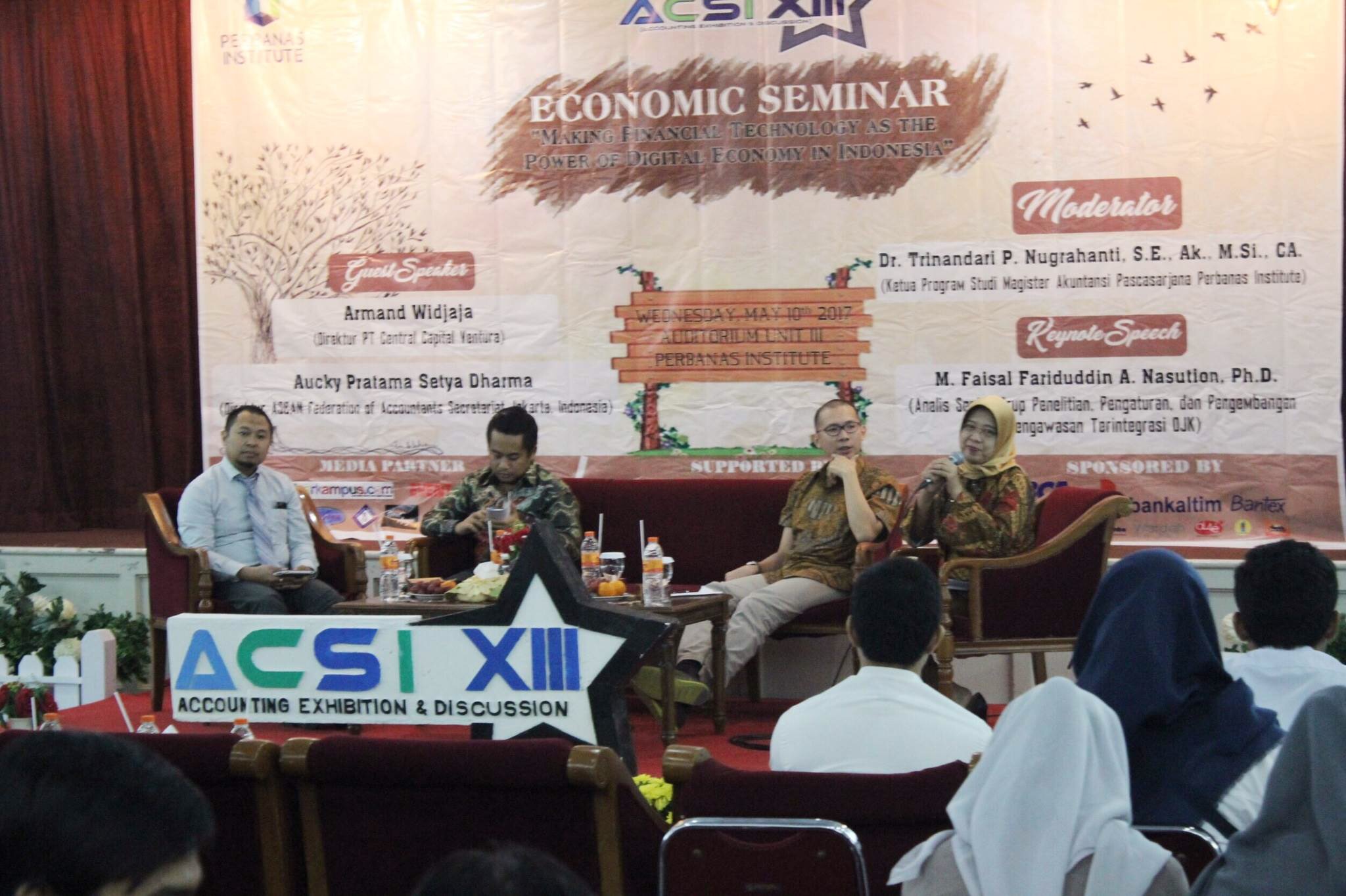 Semoga dengan diselenggarakannya kegiatan ACSI XIII, mahasiswa Perbanas dapat meningkatkan pengetahuan serta daya saing para lulusan universitas dalam negeri.